Professional consultants with current knowledge of a wide range of manufacturing and service sectors
All auditors hold current IRCA Lead auditor status
Up-to-date experience of good business practice
Advice on the most effective way of implementing management system standards
Simplification of documentation is our aim - enabling companies to benefit from their trained, competent staff without imposing unnecessarily rigid procedures.

Wide product range


Quality Management
Environmental Management
Health & Safety Management
Financial Management
Production and Inventory Control

Industry sector requirements including:

Pharmaceuticals
Aerospace
Food manufacture and packaging
Medical devices
Information security
Self-verification schemes and CE marking


Approach

Advice and support to ensure ownership of the system
Training to ensure competence at all levels in the company
Full buy-in from all staff

Support includes

 Systems Help-line - support available six days a week to provide assistance with any aspect of systems management
"Where are we now" Assessment - for companies that already have a documented quality management system, we offer an introductory audit on their current system at a reduced cost.


 

Outsourcing - by offering our services as quality advisors, we are available for companies to use our experience and management skills to their best advantage. For many smaller organisations the role of quality manager is often one shared with another activity. Outsourcing the quality manager's role is becoming an attractive proposition for many smaller companies who are able then to call upon expertise on a regular basis yet concentrate on their main role within the company.
Supply chain management support - we can manage your supply chain problems. By working with suppliers and sub-contractors to improve the goods and services provided.


Continual, Company-wide Improvement
Many companies are also looking for improvements over and above those, which ISO 9001 can bring. For these companies we can provide assistance to co-ordinate and monitor quality improvement schemes including self-assessment and provide the catalyst for improved staff motivation and involvement.

Please Click here for:

Integrated Management Consultancy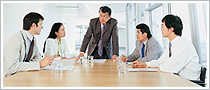 Management Systems for Small and Medium sized company's .
Integrated Management Consultancy